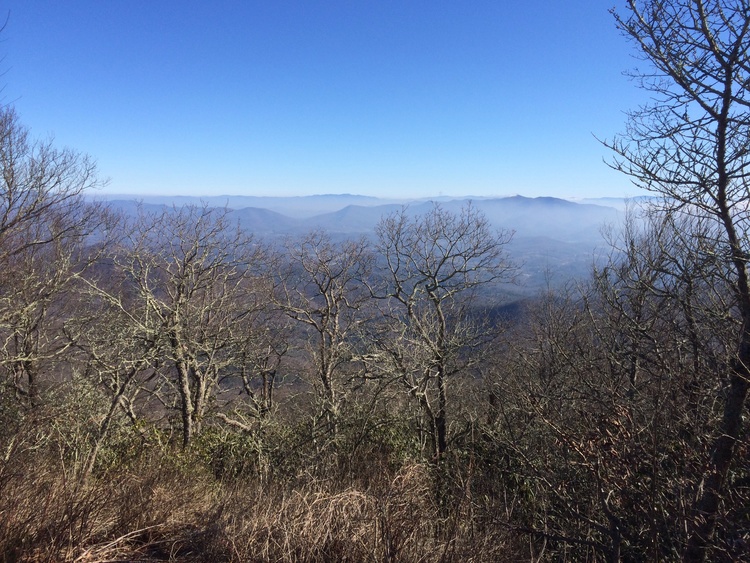 So far I've been able to stay uninjured while making good progress along the trail. This first week felt slow. My legs are a sore, I have a few small blisters, and my knees hurt occasionally walking down hill. Overall I am exactly where I expected to be. I continue to get stronger and my feet build up an endurance to all the steps I take in one day.
I started the trail 9 miles before the actual start. I took the scenic route and walked up the approach trail that adding 8.8 miles to 2000 plus miles I already had planned to walk. The approach trail starts in Amicalola Falls State Park. The extra miles and 2000 feet of upward elevation was worth it. The first two days out on the trail where wet and foggy. Not much to look at. On the third day the sun finally made its way to the sky and it was wonderful. The rain and fog returned on the sixth day but I only hiked after the rain had passed. I took and easy hike on the sixth day after staying at a hostel (topofgeorgia.com) near Dick's Creek Gap. The trail has been generally uneventful as I walk alone but stop to make camp with many other hikers.
I've met over a hundred thru hikers at this point. Some only taking 3 minutes with some usual hiker small talk. Others I've sat around a campfire for hours with after a long day. Thru hikers are an interesting bunch of people from all over the world, from all different walks of life.
One interesting thing that you'll find along the way is that people will offer to help hikers with food, comfort, and rides to town along the trail. This generosity is referred to 'Trail Magic' by most hikers and ex-hikers. These small acts of generosity can change a bad day to a good one with something a simple as a hot dog and a fire to warm up.
It's hard to force myself to stop and write these posts. I've been enjoying life out on the trail. Everyday I wake up with the itch to get walking again.
This next week I'll be done with Georgia and I'll be hiking through North Carolina and then Tennessee not long after that. I hope to be able to increase the miles over the next few weeks. This will be challenging since the elevation increases as I hike north. By next week I'll be hiking through mountains over 5000 feet tall.