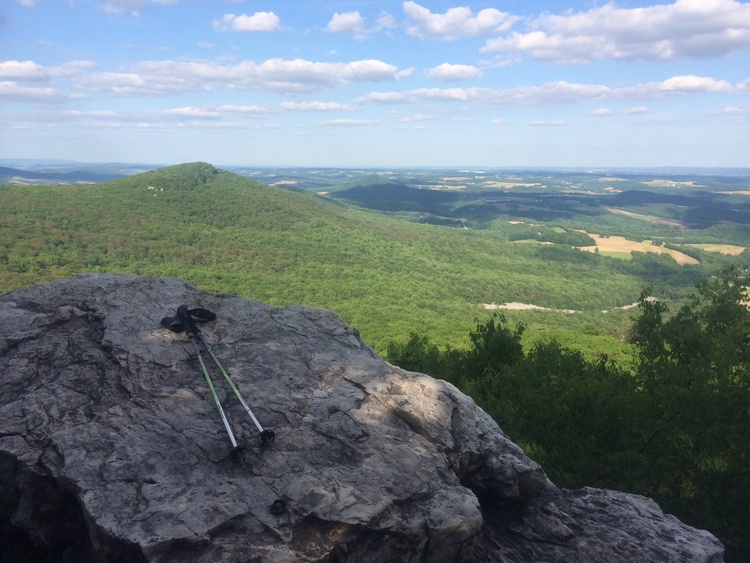 For the last few months all I've heard from other hikers in response to complaining about rocks on the trail is, "just wait until you get to Pennsylvania". Well, now I'm in Pennsylvania and there are lots of rocks on the trail but I don't think it lives up too all the hype. Most the time, the Pennsylvania trail is a few miles of very rocky trail connected by a few easy miles of flat dirt trail. I was pleasantly surprised to find out that Pennsylvania is a terrific stretch of the Appalachian Trail. I really enjoyed week 11 in Pennsylvania. I did not need to walk very many miles compared to what I had been walking per week. This slight change in pace was enjoyable. The reason for my change in pace is because in week 12 I met up with my friend Matthew Leverton in Delaware Water Gap who came to visit me.
Anyway, Week 11 started off in the town of Duncannon. I took rest and resupply there. In this small trail town there is a well know hotel that hikers stay at called the Doyle. So where else would I want to stay? The Doyle does have a reputation of being a dump ... so my expectations were low. It turned out to be very enjoyable place. One of my favorite places to stay on the trail so far. I was up on the fourth floor, in the 100 year old building, with a corner room with two windows. The room was smaller than my dorm room in college, but it was dry and cozy. There were also a few other hikers there so we where able to hang out, enjoy the good bar food, and a few cold beers.
When I was in Duncannon I got mailed a new pair of shoes. So I had to wait until 3pm until the UPS guy showed up. This also meant I could take an easy day out of town to break the shoes in. I only went 5 or so miles up som more rocky Pennsylvania. My shoes where broken in very quickly. Walking out of the town I remember being dive bombed multiple times by a falcon. First time I'd seem (or at least noticed) a falcon on the trail.
After Duncannon there were a few notable shelters along the way. The main one being the 501 shelter. This shelter is fully enclosed and feels more like a hostel than an AT shelter. I was able to order a large pizza and chicken parmesan sandwich that was delivered to the shelter. A life of luxury.
Making my way slowly down the trail I stopped into the town of Port Clinton and stayed for free in the town pavilion. I was able to resupply at the near by Walmart. All around a slow moving week but was a nice change of pace. Slowing down was boring at times but I was able to stop more often and talking with people along the tail and in towns. I was excited also to meet up the Matthew and spend a few days off trail. Week 12 update soon...