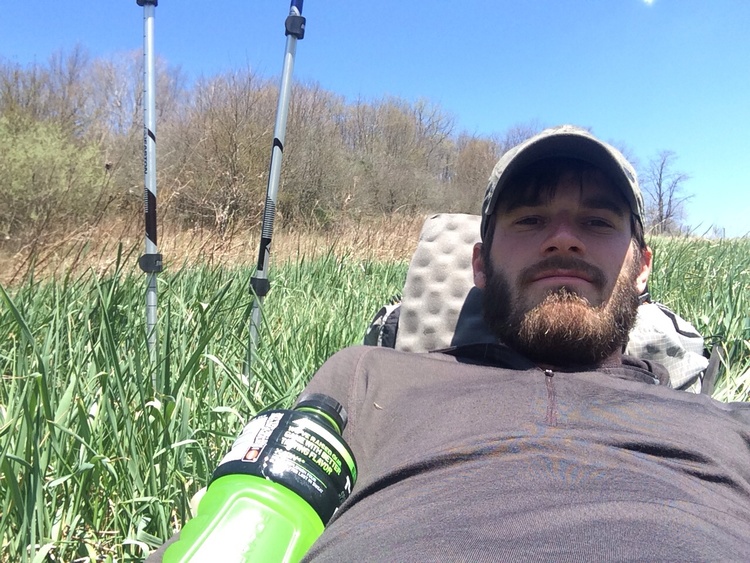 Reaching Damascus, VA was great mile stone. This trail town I heard of before starting my thru hike. Made famous some what by Trail Days. I left Damascus feeling great physically and set a new goal of walking 120 miles per week. This would require doing 20 miles a day for majority of the days each week. I've been able to keep this goal of 120 miles per week but it does require some longer days of hiking until the sun sets.
During these two weeks I was pretty bored with Virginia. Some of my feeling of boredom was just trail fatigue setting in after being outdoors for so long. This said, Virginia is definetly less interesting than Georgia, Tennesse, and North Carolina. During week 6 and 7 there was still a few great highlights.
The Grayson Highlands where awesome. I looked forward to seeing some wild ponies that I had heard so much about. The ponies turned out to not be so 'wild'. They had been around so many people that it seemed more like a petting zoo. It was still neat to see the ponies, I made sure to take a few pictures.
After the Highlands the next big goal was getting to the town of Pearisburg. Before getting there though I stayed in the 'Partnership' shelter that had a shower. Once I found out it was a cold shower I was much less interested. I was able to get a ride that night into the town of Marion for some delicious pizza. It's amazing how much better getting food in town can make you feel.
Next town up was the very small town of Atkins, VA. The trail runs straight through this town. Here I ate at a restaurant called 'The Barn' that serves a 16oz hiker sized burger. After stuffing myself I managed to still stop by the Sunco station on the way out of town to buy some chocolate milk and a few candy bars.
I should also mention at this point that after leaving Damascus I found a group of hikers who move about the same pace as I was. This was nice to hike with the same people for a few days. Hiking is an individual can allow more flexibility in deciding what you'd like to do, but hiking in a group is also fun and rewarding as you experience things together.
Anyway, before reaching Pearisburg I escaped the rain by making a stop at a famous hostel named Woods Hole. Woods Hole hostel was very cool. It was a little bit pricey ($35), but well worth it. I ate both breakfast and dinner at the hostel. All meals are prepared by the hostel with food grown on the farm. The combination of fresh food and a good cook made the food very good. The homemade bread was delicious and filling. This homestead is run by couple who owns the house and hostel that sits about a half mile off the trail.
I made it to Pearisburg and decided to not spend the night since it was only a 10 mile hike from the hostel I just stayed in. I did get a new pair of shoes (from the post office, thanks mom) and enjoyed a all-you-can-eat chinese buffet. I bought food at the Food Lion and moved on out of town.
From Pearisburg, which was not much of a hiker town, me and a few others headed to Daneville. Daneville was a nice surprise because I didn't expect there to be much there. It basically a truck stop off the highway. But the needs of a truckers and hikers are apparently very simular.
These last to weeks where hard but rewarding. I'm glad to still be on the trail. I hope that I'm able to catch up on these updates in the next few days. I am almost 1 month behind.